My old cat, Isis, on a bedspread dyed with turquoise MX-G, blue MX-G, and yellow MX-8G.
Last month, Dharma Trading Company sent out an important and alarming email about recent dye shortages:
Yes, it is true. The supply of our most important and most beautiful blues, #23 Cerulean Blue and #25 Turquoise, has become problematic. It is even possible that Cerulean Blue won't be made anymore, due to a lack of the chemical precursors used to make it. This seems to be a little up in the air, so we are keeping our fingers crossed.

#23 Cerulean Blue
We were able to get a couple of shipments of #23 Cerulean before our manufacturer ran out. Right now, we have enough Cerulean Blue to sell up to 25 lbs per customer, but no more. As we run low, we will have to ration it further.

#25 Turquoise
Right now we are having to limit orders of Turquoise to 2 oz. per customer, and are unable to package any more. What we have in stock is it for now. We have a teeny tiny shipment coming in around 12/11 or so, so we hope to be able to be able to sell 2 and 8 oz jars, one per customer, until we get some more. But, we are assured by several importers that they will get more Turquoise, it is just a matter of when.

Mixes containing these colors are all still in stock, but as they run low,
some may have to be rationed as well.

Rest assured that we are doing everything we can to resource these colors for you as we know how important it is to people's livelihoods. We will keep you informed when any new information comes to light. Thank you for your patience!
As of this writing, Dharma's website says,
ATTENTION: there is currently a worldwide shortage of 2 dye colors, #23 Cerulean Blue, and #25 Turquoise. For now, we have Cerulean Blue, so at least temporarily, that gorgeous color is in stock, but we have to limit it, and so cannot allow large orders. Turquoise – we currently now have 2 and 8 oz jars, 1st come, 1st serve, 1 per customer please. We are expecting a super huge shipment of Turquoise around mid January. We will keep you updated as we learn more.
Meanwhile, ProChem's website says,
ADVERTISEMENT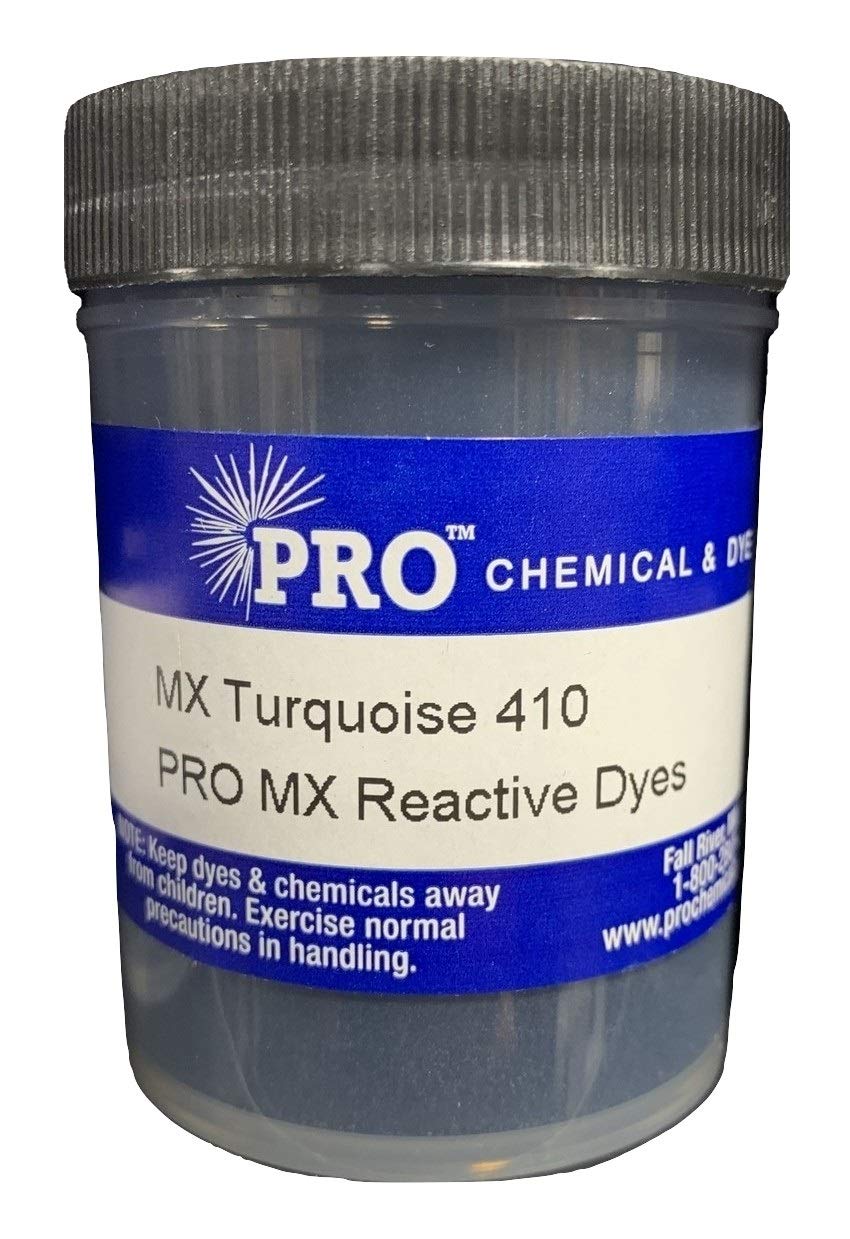 Procion Turquoise MX-G
PLEASE NOTE: MANY BLUES & GREENS CONTAIN TURQUOISE 410 & INTENSE BLUE 406 WHICH HAVE BOTH BEEN ON BACKORDER BY THE MANUFACTURERS OVERSEAS. ONLY LIMITED QUANTITIES ARE AVAILABLE UNTIL FURTHER NOTICE.
ProChemical and Dye currently has both of these dyes in stock, so I'm sure Dharma's expected big shipment of turquoise will be in stock soon. Whew! Big sigh of relief.
What would we do if these two dyes were to become discontinued altogether? We would have to turn to another class of fiber reactive dyes. There are equally brilliant turquoise and blue dyes available in other types of fiber reactive dyes, though they are a little more expensive than our Procion dyes, and none of them are currently available in the wonderful variety of pre-mixed colors that the Procion dyes are. We won't have to give up using these glorious colors in our work. This would still be an awful thing to have happen. It would be a tremendous headache for everyone who relies on existing recipes for mixing dye colors. It must be a nightmare for the people who mix colors at Dharma, Prochem, Jacquard, and our other suppliers.
(Please help support this web site. Thank you.)
Paula